All I want for Christmas is a sustainable tree
Through the year we worship trees — we delight in the veterans, promise to plant more, weep at the forest fires and denuded Amazon. And come December, how do we show our gratitude? By sacrificing a conifer.
The chainsaw whirrs, the felled baby Nordmann and 7ft spruces are chucked on to trucks on their way to our homes, to be covered in trinkets and baubles. They will desiccate gently until that day in January when the council wagon comes around to collect them.
Is it now an act of barbarism against nature? Just relax, thinks Peter Wohlleben, author of The Hidden Life of Trees: nowadays it's only as bad as a market gardener picking sprouts.
Though the tradition of bringing greenery into the home probably began before the birth of Christ, celebrating Christmas with a tree was closely allied to the Reformation. It is an alternative to the Catholic crib. Legend has it that Martin Luther was the first person to put candles on his tree.
But the act of tree-hauling was already not without controversy. The German city of Freiburg had one of the first reported ceremonial trees in 1419 — decorated with gingerbread and waffles, erected by a local bakers' guild. In 1554, Freiburg banned the cutting of trees for Christmas. Strasbourg had already banned cutting pine branches, brought in for New Year. In Alsace, a limit was imposed — each citizen could only cut "one pine in the length of eight shoes".
However, the idea of a tree in the house in the dark days of winter, lit and worshipped, persisted. It began to spread through England first under George I, from the House of Hanover. In 1848, The Illustrated London News ran a picture of the Queen and family around a Christmas tree.
Carl August Schwerdgeburth included an engraving of Martin Luther with his family around the candlelit tree for an 1843 children's book. The idea became imprinted in the minds of the public and as Lutherans settled in the US, it travelled with bells on.
'Luther in the circle of his family at Wittenberg am Christabend 1536', steel engraving by Carl August Schwerdgeburth (1843) © akg-images
The tree would appear in the 1947 classic Miracle on 34th Street, be trimmed and fussed over in Christmas in Connecticut (1945). The final scene of Frank Capra's It's a Wonderful Life, released in 1946, is played out around the Christmas tree as a symbol of giving: the town storms into George Bailey's house to do the reverse of a bank-run, filling up the coffers of his Building and Loan company with one-dollar bills to a chorus of "Auld Lang Syne". And then a bell hanging from it rings and Clarence gets his wings.
By this point, every self-respecting postwar US household has seen a Christmas tree on celluloid, and their own living rooms come to reflect them. But how then do you provide enough firs for a continent, swaths of which are close to desert?
While there are still traditions of cutting a tree from a national forest, most trees are now farmed. For that reason, Wohlleben, the guru of natural forestry, does not see this as an issue against nature. "You could see them as a kind of vegetable that can be consumed without a guilty conscience," he said in a podcast in 2019, a view he confirms he still holds when I asked him this week. His family still get a tree in.
In Ashe County, North Carolina, it's an industry. Of the 11.65m trees cropped and sold in 2019, and logged in NSDAA records, Ashe County — population 26,863 — produced nearly 2m alone, 5,000 hectares of hungry young trees suckling on carbon dioxide. It specialises in the Appalachian's native Fraser firs — soft needles and a silvery sheen.
(Driving a pick-up to go collect the tree might negate some of the benefits to your conscience. A Christmas tree stores around 18kg of carbon dioxide, in roots and above the ground. A 15-mile round trip in a Toyota Hilux to collect one will emit 10kg in return.)
The Christmas tree is central to the classic film 'It's a Wonderful Life' © LMK Media
Even so, in an age of anxiety about consumption and waste, having welcomed a tree into your house, how to accept its demise four or five weeks later? This question has led to a new branch of the Christmas tree business: "tree rentals" — ones that you return to nature.
Monica Hudson has been running Rent a Living Christmas Tree in Carmel, California, since 2009. As well as traditional firs, she's also trying to raise mini-Redwoods. Her customers "would happily keep the tree", she says "but it's difficult when you live in an apartment or don't have a big property."
Up on Rodborough Common near Stroud in the west of England, Tom Vear started his Rental Christmas Trees business from the yard beside his family's ice-cream parlour, Winstone's, in 2017. The process there is simple. "You pick the tree you want, you love the tree, you give it a name — Bruce the Spruce," says Vear.
It comes potted with watering instructions and hopes for the best. "Then you bring it back and we offer a re-rent of the same tree the next year." Between January and November, the potted tree is returned to a growing site near Cheltenham, about 10 miles away, to fatten out and add another foot in height. He already has orders for 2022.
Are rental trees any better for the environment? It is most likely marginal, and again based on distance travelled. Vear tells me he had a call from Edinburgh, 350 miles away, asking for a rental to be couriered there. He refused. Perhaps the greatest benefit of the rental model are the wider lessons of returning them in January — that not everything needs to be owned: an antidote to all those unreturnable presents under the tree.
A tree farm in Oregon © Nathan Howard/Getty Images
Trees for sale in New York © Wang Ying/Xinhua News Agency/eyevine
Another alternative is the artificial tree, made of a cocktail of plastic and metal. Although one should be instinctively against them, the Carbon Trust says they aren't so bad if you can bear to keep them for at least seven and preferably 20 years. An artificial tree will have an average carbon footprint of 40kg, about 10 times that of a real tree that will eventually be chipped.
The original way was perhaps the most in tune with nature: man takes axe and saw out into the woods, slays a pine and brings it home — within sustainable limits. In the US, national forests issue a permit and a small fee is payable. In Estonia, you find your tree in a state forest — one that is unlikely to make it to maturity — tell the government via an app and they send you the price. Generally speaking, cutting down trees anywhere without permission is illegal.
However, those expecting the plump conical bushes seen in garden centres, straight from the farms, might not appreciate the forest tree: windblown so it's asymmetrical, yellow around the edges from lack of fertiliser, a little ropey.
An example of the waywardness of forest trees can be seen in the one recently delivered to Trafalgar Square in London from Oslo, a historic gift of friendship. The first London tree was sent in 1947 by King Haakon VII as a thank you after the city housed him during the second world war.
A Christmas tree stores around 18kg of carbon dioxide, in roots and above the ground. A 15-mile round trip in a Toyota Hilux to collect one will emit 10kg in return
Now it is more a tree of "love and solidarity", says Marianne Borgen, the mayor of Oslo, who observed the tree being felled by foresters — they nurture 10 per year and then choose the best. "They take such good care of these trees, I also think sometimes they sing to them and read them poetry," says Borgen.
Unveiled in the first week in December, this year's tree is a little gappy and lopsided. "Even Norway hates us now," one wit tweeted in what has become the new Christmas tradition: being rude about the Trafalgar Square tree. Another chipped in: "Interflora clearly forgot to include the little sachet of plant feed."
"There were some criticisms in London," says Borgen. "This is a tree from the woods, not a specially grown tree, nor a plastic one. Real trees look different," she says. But the real criticism again should not be of natural form — our own Highland spruces would do little better — but of the transport — truck, boat, truck — to get it to London.
The rival to London's tree, the Rockefeller in New York, is also up. They don't put up with such jibes from the public — they glue in extra branches to fill up the gaps.
However grand the tree, it shares a fate with many of the others: it will be chipped and used for compost when its time is over, says the City of Westminster, which also runs a "recycling scheme" for domestic trees.
If the environment is your concern, this is where there is a key difference. A tree dumped into a landfill will decompose without air — anaerobically — releasing methane, a far more potent greenhouse gas than CO2. One that is chipped down (with an, ahem, powerful engine) and composted will largely just release the CO2 that the next generation of trees would absorb.
This year's much talked-about tree in London's Trafalgar Square © Hasan Esen/Anadolu Agency via Getty Images
The famous tree in the Rockefeller Center, New York © Gary Hershorn/Corbis via Getty Images
Of course, it is possible to just do this yourself, clipping off the branches and making a mound of them in a corner of the garden — a nice hotel for bugs and beetles as it decays, and much like the end of a tree's life in a forest.
Or you could look at your Christmas tree as the beginning of new things: a meal, a cocktail, the giver of flavour. Julia Georgallis is the author of How to Eat Your Christmas Tree. A baker by trade, she was running supper clubs and thinking about "cradle to grave" uses for produce.
"In January, you see all those trees on the side of the street and they look so sad, so I thought: how do we reuse them and make January a little happier," she says.
The recipes include pickles and a Christmas tree fish dish where you whizz up the needles with lemon, beetroot, salt and sugar.
Not all trees taste the same: "Fir is zesty, pine is mild and good for teas, spruce is quite vanilla-y. I did some research into why and found that in synthetic vanilla there's an ingredient called coniferin which can be derived from conifers — it's a flavour note they share," says Georgallis, who sources trees for cooking from leftover stock at a local Christmas tree farm that doesn't use pesticides.
Other uses are syrups — the book includes recipes for a Christmas tree sour and mimosa and a syrup that can be added to just about any spirit after boiling up the needles with some sugar. Georgallis reminds me that retsina gets its flavour from pine resin aromas.
Is the sacrifice of a tree worth it? The most environmentally friendly fir is one that stays put in the ground where it seeded. But, failing that, the tree world would probably forgive us our offerings if we gave the natural forests more space to grow; if every time a bell rang, a seedling landed safely.
Spruce & ginger ice cream
In a heavy-bottomed saucepan, whisk together the cream, milk, sugar, salt and egg yolks. Add the needles, then heat gently, stirring continuously. After 15 mins, turn up the heat to medium and when it starts to bubble remove from the heat. Sieve a few times to remove the needles. Then, if you have an ice-cream maker, put the mixture in the churning pot, adding the chopped ginger as it cools. Otherwise, let it cool in a tub, put it in the freezer, stirring every hour. Add the ginger as it begins to set.

Adapted from Julia Georgallis's "How to Eat Your Christmas Tree" (Hardie Grant)
Follow @FTProperty on Twitter or @ft_houseandhome on Instagram to find out about our latest stories first
Checkout latest world news below links :
World News || Latest News || U.S. News
Source Here: worldnewsera.com
'Moon Knight' Took Marvel in a Different Orbit, but It Didn't Rise to the Occasion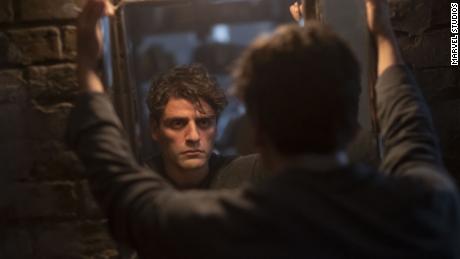 Before anyone writes that off as an anomaly,
"Eternals"
tackled a similar introduction of a dense mythology on the bigger screen, with equally mixed results. It's a reminder that while film-goers have had more than a decade to get to know characters like Iron Man, Captain America and Thor, introducing some of these lesser-known heroes can pose a more formidable challenge beyond catering to the most ardent fans.
For Marvel, there are warning signs in that, since "Moon Knight" will be followed by several series based on second-tier characters, although the next two on the horizon,
"Ms. Marvel"
(which is due in June) and "She-Hulk," at least have the benefit of sharing franchises and name recognition with existing Avengers.
Ultimately, "Moon Knight's"
murky storytelling
appeared to squander its principal assets, which included the cool look of the character — a costume that was too seldom used — and the presence of Isaac, who possesses additional genre credentials via the "Star Wars" sequels.
Taking its time in peeling back the layers of the character's complicated backstory, "Moon Knight" took a weird plunge into the Egyptian mythology behind it, in ways that became increasingly confounding and surreal.
By the time the protagonist's two halves, Steven Grant and Marc Spector, wound up in a psychiatric hospital talking to an anthropomorphic hippo in the penultimate chapter, the question wasn't so much being able to keep up with the story as whether bothering to do so was worth the effort.
The sixth and final episode brought the plot to a messy close, seeking to stop the goddess Ammit from proceeding to "purify the souls of Cairo, and then the world." In the customary credit sequence, the producers capped that off by introducing a third personality, Jake Lockley, also rooted in the comics. While that seemingly spelled the end for the show's villain (Ethan Hawke), the finish — giving the god Khonshu the protégé he sought — paved the way for further adventures should Marvel so choose.
That last twist might be cause for celebration in narrower confines of the Marvel fan universe, but "Moon Knight" too often felt like it was one long Easter-egg sequence, conspicuously preaching to that choir.
Granted, Marvel has made clear that Disney+ offers the chance to explore different kinds of stories, but "Moon Knight" feels at best like a quirky showcase for Isaac and at worst a failed experiment in terms of execution and tone.
That doesn't mean this "Moon" won't somehow rise again, if the closely held streaming data justifies it. But the promise that surrounded this property has faded, providing further evidence that even Marvel isn't immune from setbacks as it moves into its next phase.
Checkout latest world news below links :
World News || Latest News || U.S. News
Original Article: worldnewsera.com
Start-up Pony.ai says it's the first self-driving company to get a taxi license in China
Autonomous driving start-up Pony.ai can collect fares for robotaxi rides in parts of two major Chinese cities as of Sunday.
Pony.ai handout
BEIJING — Self-driving start-up Pony.ai announced Sunday it received a taxi license, the first of its kind in China.
The license allows Pony.ai to operate 100 self-driving cars as traditional taxis in the Nansha district of the southern city of Guangzhou, the company said.
The Chinese start-up, which is backed by Toyota, received approval from Beijing city late last year to charge fees to operate a commercial robotaxi business in a suburban district of the city. It is not the same as a taxi licence.
Baidu's Apollo Go also received approval in the same Beijing district last year.
Pony.ai was valued at $8.5 billion in early March. The company said its Nansha taxi license required 24 months of autonomous driving testing in China and/or other countries, and no involvement in any active liability traffic accidents, among other factors.
The start-up said it plans to launch commercial robotaxi businesses in two other large Chinese cities next year. The company is already testing self-driving cars in those cities and in California. 
Robotaxis in China currently have a human driver present for safety.
— CNBC's Arjun Kharpal contributed to this report.
Checkout latest world news below links :
World News || Latest News || U.S. News
Article: worldnewsera.com
How to watch Timberwolves vs. Grizzlies: TV channel, NBA live stream info, start time
Who's Playing
Memphis @ Minnesota
Current Records: Memphis 2-1; Minnesota 1-2
What to Know
The Memphis Grizzlies' road trip will continue as they head to Target Center at 10 p.m. ET this past Saturday to face off against the Minnesota Timberwolves. Memphis will be strutting in after a win while Minnesota will be stumbling in from a loss.
The Grizzlies are hoping for another victory. They beat the Timberwolves 104-95 this past Thursday. The victory came about thanks to a strong surge after the first quarter to overcome a 39-21 deficit. Memphis' success was spearheaded by the efforts of power forward Brandon Clarke, who had 20 points in addition to eight rebounds, and shooting guard Desmond Bane, who shot 7-for-15 from beyond the arc and finished with 26 points and six boards.
Barring any buzzer beaters, Memphis is expected to win a tight contest. They might be worth taking a chance on against the spread as they are currently on a two-game streak of ATS wins.
Memphis' win brought them up to 2-1 while the Timberwolves' defeat pulled them down to a reciprocal 1-2. A couple offensive stats to keep in the back of your head while watching: The Grizzlies come into the game boasting the second most points per game in the league at 115.6. But Minnesota is even better: they rank first in the league when it comes to points per game, with 115.9 on average. Tune in for what's sure to be a high-scoring contest.
How To Watch
When: Saturday at 10 p.m. ET Where: Target Center — Minneapolis, Minnesota TV: ESPN Online streaming: fuboTV (Try for free. Regional restrictions may apply.) Follow: CBS Sports App Ticket Cost: $76.96
Odds
The Grizzlies are a slight 2.5-point favorite against the Timberwolves, according to the latest NBA odds.
The oddsmakers had a good feel for the line for this one, as the game opened with the Grizzlies as a 3-point favorite.
Over/Under: -110
See NBA picks for every single game, including this one, from SportsLine's advanced computer model. Get picks now.
Series History
Memphis have won 19 out of their last 28 games against Minnesota.
Apr 21, 2022 – Memphis 104 vs. Minnesota 95 Apr 19, 2022 – Memphis 124 vs. Minnesota 96 Apr 16, 2022 – Minnesota 130 vs. Memphis 117 Feb 24, 2022 – Minnesota 119 vs. Memphis 114 Jan 13, 2022 – Memphis 116 vs. Minnesota 108 Nov 20, 2021 – Minnesota 138 vs. Memphis 95 Nov 08, 2021 – Memphis 125 vs. Minnesota 118 May 05, 2021 – Memphis 139 vs. Minnesota 135 Apr 02, 2021 – Memphis 120 vs. Minnesota 108 Jan 13, 2021 – Memphis 118 vs. Minnesota 107 Jan 07, 2020 – Memphis 119 vs. Minnesota 112 Dec 01, 2019 – Memphis 115 vs. Minnesota 107 Nov 06, 2019 – Memphis 137 vs. Minnesota 121 Mar 23, 2019 – Minnesota 112 vs. Memphis 99 Feb 05, 2019 – Memphis 108 vs. Minnesota 106 Jan 30, 2019 – Minnesota 99 vs. Memphis 97 Nov 18, 2018 – Memphis 100 vs. Minnesota 87 Apr 09, 2018 – Minnesota 113 vs. Memphis 94 Mar 26, 2018 – Memphis 101 vs. Minnesota 93 Dec 04, 2017 – Memphis 95 vs. Minnesota 92 Feb 04, 2017 – Memphis 107 vs. Minnesota 99 Nov 19, 2016 – Memphis 93 vs. Minnesota 71 Nov 01, 2016 – Minnesota 116 vs. Memphis 80 Oct 26, 2016 – Memphis 102 vs. Minnesota 98 Mar 16, 2016 – Minnesota 114 vs. Memphis 108 Feb 19, 2016 – Memphis 109 vs. Minnesota 104 Jan 23, 2016 – Minnesota 106 vs. Memphis 101 Nov 15, 2015 – Memphis 114 vs. Minnesota 106
Injury Report for Minnesota
No Injury Information
Injury Report for Memphis
Dillon Brooks: Game-Time Decision (Foot) Santi Aldama: Out (Knee) Killian Tillie: Out (Knee)
Checkout latest world news below links :
World News || Latest News || U.S. News
Original Post: worldnewsera.com